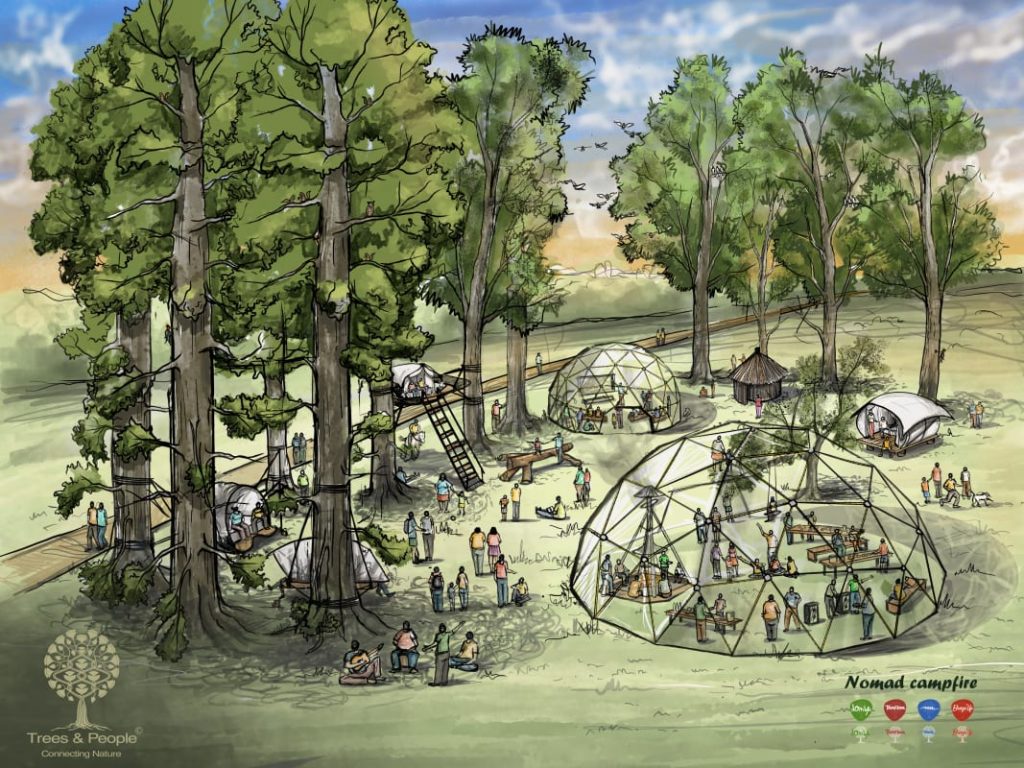 Designed for experiential short stays, the Wilderness Camp addresses two fundamental issues plaguing rural tourist sites.
Provide a warm and welcoming meeting space and favourable conditions to oversee the local activities.
A camp designed to be relocated at will! 
Access to the camp is through a path between two spiralling heather screens, so as to shelter the camp itself from the wind, which, in addition to enhancing the guests' comfort, keeps the smoke from the open fire directed towards the opening of the camp's canopy.
The dugout living room can accommodate between 20 and 60 people, depending on the chosen size. They will gather around the fire, conveniently located under the covered opening in the carbet that lets the smoke out but keeps the rain from coming in. A large adjustable suspended BBQ cooking grid is a constant invitation to cook together.
When properly informed of what is needed to maintain the delicate natural balance of a rural site, the tourist feels invested with a mission to protect it.
The influx of poorly informed visitors in a natural environment is difficult to manage and onerous to contain.
Hikers ignorance is the forests' worst enemy.   Intoxicated by a feeling of freedom, they feel entitled to do as they please. They feel free to run anywhere, unleash their dog, shout as loud as they can… They think that, as long as they avoid littering, they can do no harm.
An open covered space in a natural setting is ideal to gather the hikers in a space propitious to edutainment activities designed to improve their understanding of the natural site they are about to visit.
It provides the tourist operator with a prime setting to increase its hosting site value and to offer supervised activities, educational programs and a genial environment that supports quality experiential tourism.