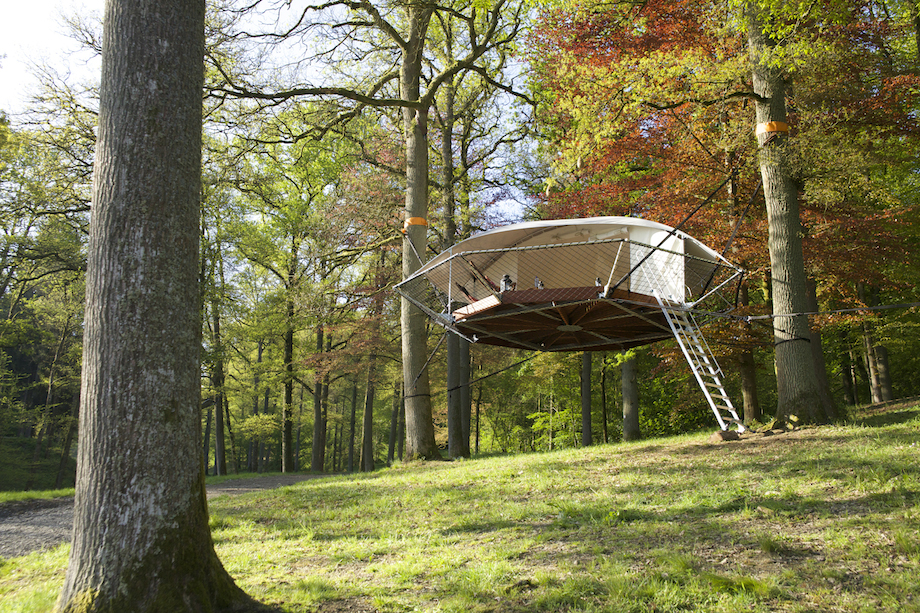 DOM'UP™ is an economical and eco-responsible alternative to treehouses. It provides an integral and enticing answer to the growing demand for unusual and eco-friendly overnight experiences.
First secure suspended treehouse including a room with a terrace,  DOM'UP

™

is a high-performance flagship product for any rural tourist operator with private wooded areas. 
DOM'UP™  consists of a 20 m2 light octagonal structure fitted with a comfortable double-skin tent and a large terrace secured by an ingenious netted guardrail system.
By leveraging the inter-tree space and relying on its proprietary fixation device conceived to respect the No Trace philosophy, this system minimises the impact on trees and on the undergrowth.
technical data sheet
The Dom'Up has been designed to be assembled by experienced arborists, or by professional rope access technicians assisted by arborists. Finding an arborist near you is easy. We are part of the vast international network of Tree People, and we will help you find a professional willing to carry out the assembly of your Dom'Up.
Load-bearing structure and tent frame
Metallic structure composed of tubular elements in SD237 steel, with all sawing, welding and drilling operations carried out before degreasing at 400°c, followed by 80gr/m² galvanization. The rafters are made of Larch or local Douglas fir beams, according to availability.
Wood floor
The 19.6 m2 floor is made up of built-in elements and does not require any tools for its installation or dismantling. It is carefully made of local and natural wood. Douglas or Larch according to availability. The edge boards are made of marine plywood treated in the field to ensure durability.
Tent
The roof is made of a sturdy and waterproof PVC thermo-welded tarpaulin designed to endure the worst conditions in all seasons (truck tarpaulin type). The inner canvas is a strong 450gr/m2 cotton/polyester, washable, waterproof, rot-proof and UV resistant. Possibility of choice of colors.
Access
The basic version comes with a miller's ladder with flat aluminium steps and side ramps (2.9 m access height). Other accesses such as wooden ladders or suspension bridge can be studied on request. (Elements not included in the purchase price)
Security
The safety device consists of a large overhanging net attached to the structure and surrounding the entire platform. It advantageously replaces the usual handrails that prevent a clear view of the landscape.
Attachment chain
Consisting of lifting rings, textile and steel slings, shackles, ropes, lashing straps, etc... A complete file including each link of the chain with its certificate will be available at the time of order.