Getting a Quote for a Nomadic Wilderness Camp
Access to the camp is through a path between two spiralling heather screens, so as to shelter the camp itself from the wind, without being cut out from the natural environment.
The open fire is contained in a dug-out fireplace or in a brazero. A suspended chimney with adjustable height protects against fire hazards.
The canopy canvas is made of highly resistant and durable stretching fabric. It can cover between 100 and 200 m2, bring the hosting capacity to up to a hundred people comfortable gathering.
The dugout living area surrounding the open fire can accommodate between 20 and 60 people, depending on the chosen size.
The kitchen area consists of 2 countertops fitted with sinks or basins, with water from a water tank sitting behind the fence, and storage space.
The Carbet canvas is set up high enough to allow light to pass between the fence and its lower rim, but low enough to ensure the rain cannot get inside the camp.
The camp flooring is insulated by 10 cm of ramial chipped wood.
Eco-friendly toilets are set outside the covered area.
This camp is designed to be moved regularly so as to minimise its impact on the flora and fauna and is compatible with thoughtful forestry and cynegetic management.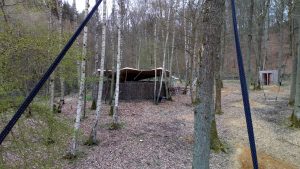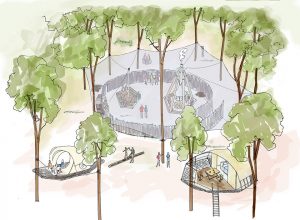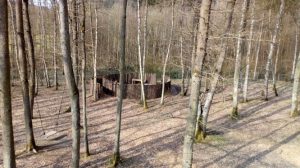 Delivery Time: Varies according to the project's complexity and scale. Expect around 2 months after blueprint approval.
For more informations
or tel: +32 2 888 58 23