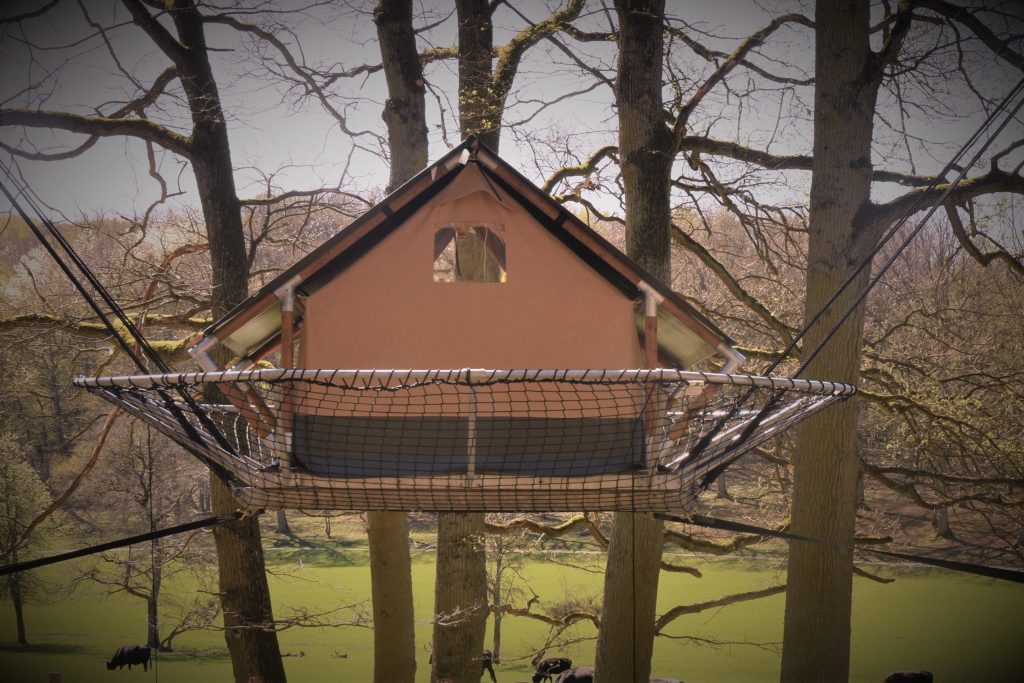 Suspended between two trees, TREEFLOOR™ is an economical eco-responsible and modulable platform on which to pitch a tent, build a cabin or even a watchtower.
A secure tree-camping platform,TREEFLOOR™ opens unusual lodging options in the heart of trees.
The TreeFloor is a 10m2 light rectangular structure secured by horizontal guardrails fitted with fall prevention security nets.
Compliant with the most stringent European norms, the TreeFloor can stay in place for decades, without dismantling it.The flooring can be easily removed before the wind and returned in place when spring comes.
Thanks to its No Trace proprietory fixation system, cohabitation with trees is painless and causes no damages.
Fiche Technique
TreeFloor à été conçu pour être monté par des arboristes expérimentés, ou par des cordistes professionnels secondés par des arboristes. Trouver un arboriste près de chez vous est facile. Nous faisons partie intégrante de ce vaste réseau international de ce nous appelons les Gens d'Arbres, et nous vous aiderons a trouver un professionnel disposé à réaliser le montage de votre TreeFloor.
Structure portante
Structure métallique composée d'éléments tubulaires en acier SD237 et dont toutes les opérations de sciage, soudure et perçage ont été effectuées avant un dégraissage à 400°c, et suivi d'une galvanisation de 80gr/m².
Plancher
Le plancher est divisé en 6 éléments encastrables sur la structure métallique. Fait en bois local, Douglas ou Mélèze selon disponibilité, Il a été conçu pour être aisément démonté avant l'hiver dans les régions de fort enneigement.
Accès
La version classique offre un accès par échelle de meunier en aluminium avec rampes latérales (2,9 m de hauteur d'accès). D'autres accès comme échelle en bois ou pont suspendu peuvent être étudiés sur demande. (Eléments non compris dans le prix d'achat)
Sécurité
Le dispositif de sécurité, conforme aux normes européennes, consiste en un filet entourant la plateforme et permet de jouir de la vue du paysage sans être géné par les rambardes classiques
Chaîne d'attache
Constituée d'anneaux de levage, d'élingues textiles et acier, de manilles, de cordes, de sangles d'arrimage... Un dossier complet incluant chaque maillon de la chaîne accompagné de son certificat sera disponible à la commande.
After the resounding success of their first season in 2018, that yielded a 100% occupancy rate, they asked for an additional two and would have taken more if it was not for the limited space reserved for the holiday village.
Other TreeFloors were acquired by a camping site owner who wanted to capitalize on the success he met with Dom'Up.
By leveraging the inter-tree space and thanks to the No Trace fixation system, the impact on trees, undergrowth and soil is reduced to next to nothing.