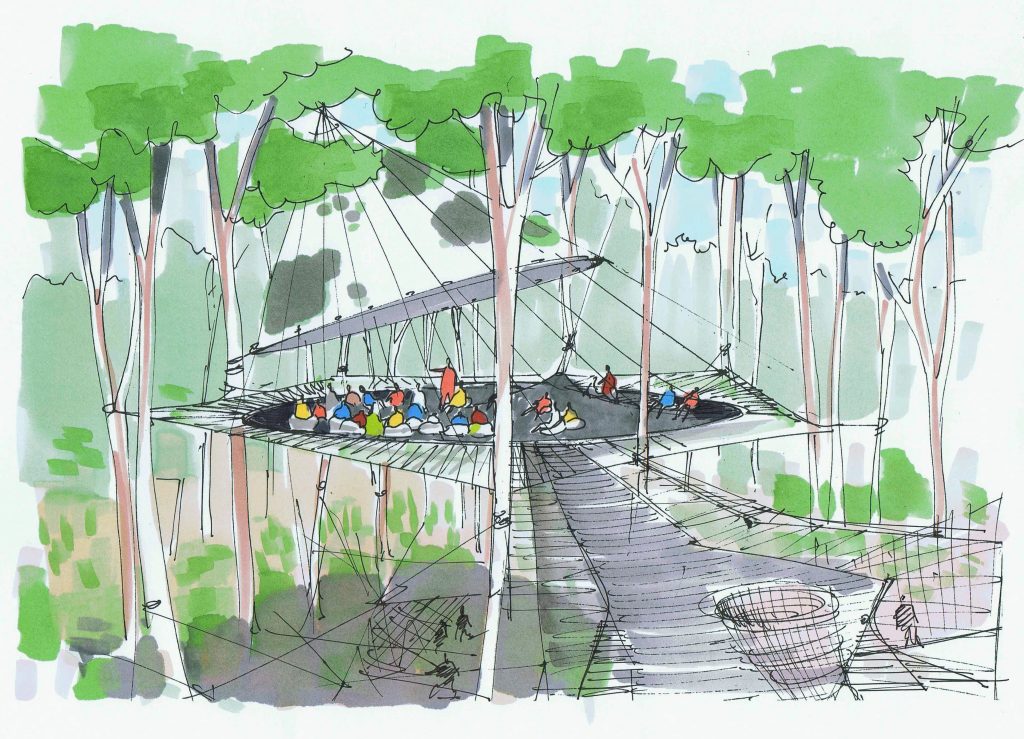 Nest is a temporary structure designed to fit a variety of events.
A communal nest hanging between trees, where to organise a badminton tournament, a movie projection, organize a boxing match, meditate…
Your imagination dictates its use.
A unicorn in the event world, NEST will turn any event you organize into an immediate sensation, simply by lifting it closer to the tree canopy, a few meters in height, in total safety.
Infinitely adjustable to fit your needs, NEST is a platform or a platform network suspended between trees where you can organize cultural or sports events, or even a wedding or anything else we have not thought about.
The safety nets around the platforms keep visitors safe without any physical barrier between them and the trees. They enjoy an ineffable feeling of freedom and communion with nature.
Access is with ladders and/or "lifts" for those less fit.
ach element of the structure conforms to the most stringent EU safety requirements.
The safety factors applied for textile elements are WLL(Working Load Limit) x 7, and WLL x 5 for metal elements. To increase durability and effectiveness, our straps are oversized by CE standards.
Everything has been done to meet safety standards and to ensure that host trees do not suffer any damage, even after decades of occupation.
The sensation created by Century Fox Epic movie Parisian preview showing in 2013 earned it the honours of the French national news (see video below).
That preview was also the launch of NEST in the public. Nest turns any event, even something as lacklustre as a backcountry badminton tournament  (i.e. Wavre, Belgium in 2016), into an instant attraction,  exponentially multiplying the number of participants or the promotional effect of the event.
Highly popular with corporations and private individuals thirsty for the unusual, NEST lets the imagination of the event organizer run wild. Whether it is for a private event, a team building exercise, to impress potential clients or "simply" to get married in the canopy, NEST is the go-to must.
Trees and People team will be delighted to explore the possibilities with you and to draw the design to make your vision come true.